Types of Clear & Invisible Aligners Availble At Tanisha Dental Clinic In South Kolkata
No metal brackets to fix, no wires to tighten- Invisible Braces involve the creation of a personalised set of aligners that you can simply wear over your teeth.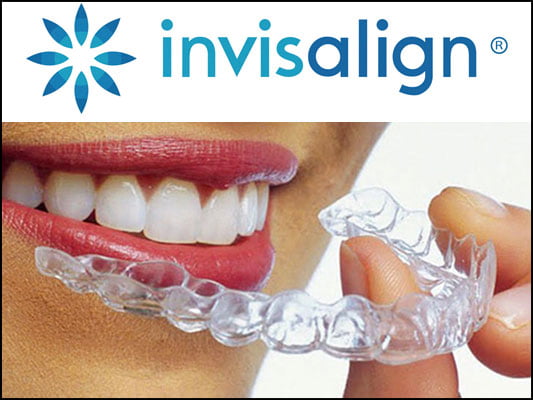 Invisalign Clear Aligners
Invisalign is the most advanced clear aligner system in the world, proven by over 13 million satisfied smiles.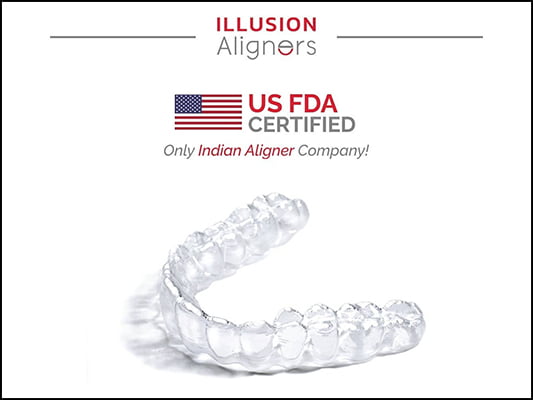 Illusion Aligners
When it comes to clear aligner treatment, trust Illusion Aligners , the only US FDA APPROVED Indian Aligner System to deliver the best results.
Advantages of Invisible Aligners
Comfortable: Invisible aligners are much more comfortable to wear than metal braces because they require no wires or brackets that can cause cuts in your mouth.
Invisible Appearance: The aligners are clear, and most people won't be able to tell you are wearing them without looking closely. This means that you can feel free to flaunt your beautiful smile.
Removable: This means that patients don't have to worry about food getting stuck in their aligners or learning how to clean around them. Simply remove your aligners before a meal and re-insert them when you are finished.
Lesser Appointments: Clear Aligners need to be checked every six-eight weeks, on average, unlike fixed braces which require more frequent appointments.
No Food Restrictions: It is possible to remove the trays and eat whatever you like!
Improved Cleanliness: Whenever you're ready to clean or floss, simply take the trays out, scrub your teeth and then put them back into. The trays can also be cleaned!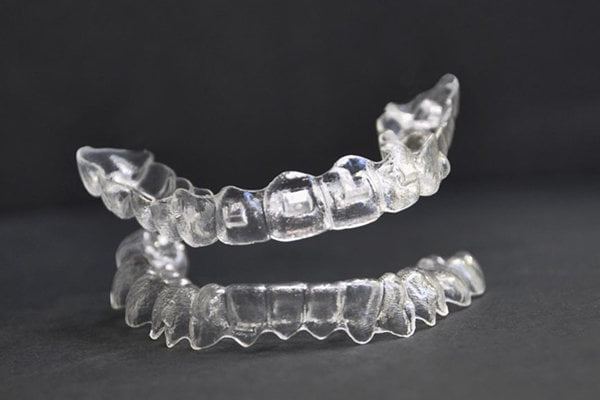 Invisalign treatment cost in Kolkata at our dental clinic
Invisalign Aligner treatment costs could range from
Rs.1,00,000-Rs.3,50,000*
. At our dental clinic, you can choose between
Invisalign Clear Aligners
or
Illusion Aligners.
The exact cost of your treatment will be determined by:
The complexity of your case
How long you are in treatment
The type of aligners you choose
At Tanishas, we offer flexible and affordable payment plans, which allow you to make small payments through the course of your smile transformation rather than all at once.
Video Gallery
Invisalign Aligner Treatment Faq
The cost of Invisalign Aligner treatment at our dental clinic may vary, typically ranging from Rs. 100,000 to Rs. 350,000*. You have the option to select either Invisalign Clear Aligners or Illusion Aligners.
The specific cost of your treatment will be determined by
:
The complexity of your case
The duration of your treatment
The type of aligners you choose
To achieve an improved smile, clear aligners are recommended. The duration of treatment can range from 10 to 24 months, with shorter timelines for adults who previously had braces as children. The actual treatment period depends on the complexity of each individual case.
During the course of aligner treatment, approximately 50% of wearers may experience mild discomfort. This discomfort is often described as tenderness or pressure and is typically noticed while wearing the aligners or when inserting/removing them for eating and cleaning.
Treatment time depends upon the individual case. In some cases, clear aligners can provide faster results due to their ability to exert precise forces, while traditional braces may be more suitable for complex orthodontic issues. Only a dentist can tell you which will offer you faster results.
Absolutely; if you want to get faster results, it is recommended to wear Invisalign aligners while sleeping. You should wear them for at least 22 hours each, so they get enough time to effectively work on your teeth and give you that dream smile.